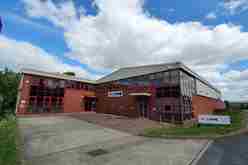 Glenstone purchase sale & leaseback industrial unit in Daventry
---
Posted on May 11, 2022
---
Glenstone REIT are delighted to report the purchase of a well configured industrial unit in Daventry, Northamptonshire. 
A sale and leaseback has completed at a NIY of 6.65% with JRM Group who have agreed a new 15 year unbroken lease.  The property operates as the JRM company HQ and they have been in occupation for the past 11 years.
The acquisition forms part of Glenstone's current strategy in acquiring medium to long term income with good site value in key commercial locations.
Glenstone's Property Investment Manager Sam Russell, commented, "This provides an excellent addition for Glenstone REIT, with strong underlying fundamentals in a good strategic industrial location.  The property is in good condition and the tenant is due to make further investment into the site by extending the unit in the near future."